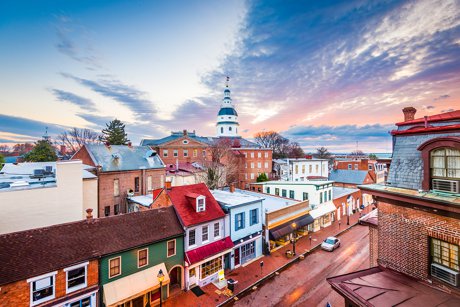 Learn the lay of the land with a twist on Annapolis real estate. Walking tours not only take participants around town but back into the past as well. Colonial Tours offers trips around key historical parts of the city with guides dressed in period garb leading the way. Those in the group get to know Annapolis property inside and out while they enjoy a mini history lesson filled with humor and wit too.
History Was Written on Annapolis Property
A two hour stroll through the historic district starts at the Annapolis Visitors Center at 26 West Street. The Maryland State House is a must see and at one time the capital of the United States. When inside its walls docents create a colorful picture of how governing was conducted in colonial times. At St. Anne's Church one can't help become inspired as beautiful stained glass windows sparkle as the sun strikes their panes. Feelings of serenity surge during the time spent here. Nearby the church compare the simplicity of a colonial kitchen to today's kitchens filled with modern appliances. Around the bend get a glimpse inside a Georgian mansion. Take a gander in the Hammond-Harwood House, a true representative of the British Colonial period. The Annapolis City Dock was a bustling place of business two hundred years ago. Hear stories told of everyday occurrences and unbelievable tales of myths and legends. Get the inside scoop on the strife between the U.S. Naval Academy and St. Johns College.
Historic walking tours are great for tourists getting to know Annapolis real estate and residents wanting to know their city better. Periodic specialty tours also frequent the calendar including African Americans in Annapolis. During this walk see the struggles faced by slaves, freed men and women of color during the Jim Crow days. Reservations are required for all tours and can be made by calling 443.721.6576. Walk the path of history and view Annapolis a bit more thoughtfully afterwards.